FCF Minerals Corporation, is a mining company, engaged in the exploration, development, and commercial operation of mineral claims through the Runruno Gold Project. The company was incorporated in 2001 with office operations based in Makati City, Philippines. FCF became a wholly-owned subsidiary of Metals Exploration Plc. (MEP) in September 2005, a Company registered with the London Stock Exchange and admitted to the Alternative Investment Market.
Information, Education and Communication
In the company's commitment to keep its stakeholders well informed specifically on the project operations and reach out even to its non-impact communities, the Information, Education and Communication section of the Community Relations Office conducted activities in Barangay Kongkong, Kasibu, Nueva Vizcaya and Barangay Macate, Diffun, Quirino.
One hundred grocery packs were turned-over to the Municipal Local Government Unit of Diffun during the 50th Golden Anniversary of Quirino Province and distributed to selected residents of Barangay Macate. Meanwhile, 100 residents of Kongkong were also given the same including seedlings during the IEC section's 4th Quarter Event, an Outreach Program and Awareness Campaign.
Outreach Program and Awareness Campaign in Kongkong. Kasibu, Nueva Vizcaya

Turn-over of grocery packs to be distributed in Barangay Macate
Conduct of information sessions to its host and neighbouring communities were also being done regularly to give them updates with regard to pertinent information regarding the company's operation. This is also a way for the company to gather insights on how to appropriately respond to issues raised by the stakeholders and thus able to blend with the community and gain support as to engagement to the development efforts of the company.

Information session with MLGU Kasibu council members

Information session in BLGU Baresbes during their general assembly
Thanks-giving Activity
Along with the company's commitment to take care of the community and its people, FCF Minerals Corporation through its Community Relations Office – IEC section conducted a gift-giving activity to 600 children of Barangay Runruno to let the children feel the spirit of Christmas in the midst of pandemic. The activity brought smile and joy to the faces of day care, kindergarten and grade 1 children in the barangay as beneficiaries of the event. This also brought happiness to the parents who accompanied their children in receiving the gifts because after almost two (2) years of not being able to celebrate the yuletide season due to COVID-19 restrictions, their children are once again excited and looking forward to celebrating it this year.
Social Development and Management Program
Enterprise Development and Networking
Geared towards the development and promotion of economically-viable business enterprises, the 14 Community Based Organizations (CBOs) of the host barangay and the other livelihood projects of the neighbouring communities are continuously supervised and monitored to institute systems and control mechanisms for the growth of capital funds following the framework of a business mind-set.
For the year, 11 CBOs from the host community were able to establish new livelihood projects such as vegetable, ginger and sweet potato production. Micro-trading also commenced with sari-sari store and feed store operations. In the neighbouring communities, seven (7) barangays were able to establish their fruit tree production.
Members of the associations continued to improve and enhance their skills and were capacitated with trainings conducted both by FCF Minerals and third party organizations like Technical Education and Skills Development Authority (TESDA) to enrich their skills and to maximize their personal and business growth.
Healthcare
To ensure healthy lives and to promote well-being of the stakeholders especially to its host community, the company is regularly conducting and supporting community activities like medical and dental mission, feeding program, clean-up drive and blood-letting activity. All employees and contractors of the company were also encouraged to assist and participate in these activities as partners in the promotion of various facets of development.
For the year 2021, the company assisted its host and neighboring communities in the battle against COVID-19 through the provision of needed medicines, medical equipment and other medical supplies.
Infrastructure Development
The provision of infrastructure support to the community underwrites its sustainable development. The Social Development and Management Program of the company is used in funding priority infrastructure projects of the host and neighbouring communities that include farm-to-market roads, bridges, buildings, agricultural facilities, water system, irrigation canals, improvement of health facilities among others.
For the year 2021, the host community agreed to allocate majority of their SDMP fund in building their 2-storey with roof deck Barangay Hall amounting to PhP 17M  to place  the residents in a safer environment.
Runruno Barangay Hall
Runruno National High School Workshop Building
MLGU Quezon perimeter fence
Educational Mine Tour
Though the conduct of mine tour for the year 2021 was temporarily put on hold in adherence to the health protocols imposed by Inter-agency Task Force (IATF) because of COVID-19, a special tour was arranged for the BLGU officials of Runruno. Visiting the mine operation site is one of their regular activity to be able to properly address the concerns of the community with regard to the company's operation.
In general, the company is conducting educational mine tour to organizations and communities to educate and increase awareness on mining as this provide experiential learning that is first hand. Participants will be able to observe and interact with the natural setting, getting a feel of the actual activities and workers in the hope to gain support and progress campaigns and claims for responsible mining.
Development of Mining Technology and Geosciences
Education is one of the major development intervention being supported by the company. Through its Social Development and Management Program, FCF donated laboratory equipment to high schools offering Science, Technology, Engineering, and Mathematics (STEM) academic strand in the province of Nueva Vizcaya. Provision of state of the art equipment aims to upgrade the laboratory in the schools for the improvement of the learners' competence in preparation to their college education, especially those who plan to take mining courses.
Pingkian National High School – Pingkian, Kayapa, Nueva Vizcaya
Bintawan National High School – Bintawan Sur, Villaverde, Nueva Vizcaya
Lamo National High School – Dupax del Norte, Nueva Vizcaya
Due to the continuing restriction of face-to-face learning because of COVID-19, all 18 DMTG scholars were provided laptops with specifications required by their courses to help them cope with their online classes. After, graduation, it will be turned over to other scholars to assist them as well in their studies. These scholars are taking up Bachelor of Science in Geology, Bachelor of Science in Geological Engineering and Bachelor of Science in Mining Engineering in Saint Louis University- Baguio City and in Adamson University and Mapua University, both located in Metro Manila.
Central Nursery – FCF's key in attaining high survival rate on reforestation programs
The company's central nursery is home of huge number of high quality planting materials of different endemic species such as White Lauan, Mayapis, Guijo, Tanguile, Kalantas, Tuai, Narra, etc. and high value crops like Rambutan, Lansones, Durian, Guyabano, Coffee, Cacao, Duhat, Kasoy, Citrus sp., and Bamboo species. This facility can produce 200,000 to 300, 000 seedlings per year. Further, improvements were initiated such as Elevated Pot Beds to proliferate the denseness of root system thus increasing the survival rate of seedling once out-planted in the field and Water Misting System for water conservation, uniform coverage, and gentle precipitation thus eliminating mortality of germinant and transplants because of uncontrolled watering that can cause injury to the plant.
Clonal Nursery
In order to clone forest tree species like Guijo, Yakal, Bagtikan from Dipterocarpaceae family and other endemic which have limitations in natural seed propagation because they have seed-off years, difficulty in propagation, and unavailability of the seedlings in certain localities, clonal facility was established which uses macro-somatic clonal propagation technology.
Low-Cost Hydroseeding Technology
Low-cost hydroseeding technology is being used by the company together with grasses and creepers like Centrosema, Calopogonium, and White Millet. Binders used are composed of locally available materials such as cassava or corn starch and recyclable materials like waste papers and saw dust. Slurry mixture from hydroseeding machine are sprayed in slopes and open areas applied with dayami (rice straw) as mulch and grasses and creepers for immediate ground cover for slope stabilization. More so, the company's mine rehabilitation involves three (3) stages such as; 1) focuses on slope stabilization and erosion control measures, 2) involves planting of nitrogen-fixing and fast-growing species, and 3) the final stage of rehabilitation where regenerants from tree cutting areas and climax forest tree species belonging to the Dipterocarpaceae family with high conservation values known to be thriving in the area prior to mine disturbance activities were planted in the mined-out area.
Progressive Mine Rehabilitation Program: Tayab Dumpsite 1 (TDS 1)
Date of Rehabilitation: July 2015
Area: 3.07 hectares
Slope Protection: Cocomatting
Grass Planted: Vetiver
Trees Planted: Apitong, Auri, Balitbitan, Rain tree, Mahogany, Kupang, Tuai, Mangium, Auri, Narra, Red river gum, White lauan, Gmelina, Katong-matsing, Nato, Dao, Yakal-saplungan, and other endemic species.
Before

After – Currently at STAGE 2 rehabilitation

Progressive Mine Rehabilitation Program: Tayab Dumpsite 2 (TDS 2)
Date of Rehabilitation: January 2018
Area: 2.13 hectares
Slope Protection: Dayami installation and Lime application
Grass Planted: Fleminga, Yellow peanut, Centrosema
Trees Planted: Antsoan dilau, Balitbitan, Rain tree, Mahogany, Narra
Before

After – On-going STAGE 3 rehabilitation
Progressive Mine Rehabilitation Program: Upper Cabarligan Dumpsite 1 (UCDS 1)
Date of Rehabilitation: September 2018
Area: 1.05 hectares
Slope Protection: Cocomatting, Dayami installation and Hydroseeding
Grass Planted: Yellow peanut, Vetiver, White millet
Trees Planted: Antsoan dilau, Balitbitan, Narra, Mahogany, Talisay
Before

After – On-going STAGE 3 rehabilitation
Progressive Mine Rehabilitation Program: Upper Cabarligan Dumpsite 2 (UCDS 2)
Date of Rehabilitation: June 2019
Area: 1.75 hectares
Slope Protection: Dayami installation and Seed broadcasting
Grass Planted: Centrosema and White millet
Trees Planted: Antsoan dilau, Red river gum, Mahogany, Narra
Before

After – On-going STAGE 3 rehabilitation
Progressive Mine Rehabilitation Program: Tulingan Dumpsite Slopes (TUDS)
Date of Rehabilitation: January 2020
Area: 7.19 hectares
Slope Protection: Dayami Installation, Hydroseeding, Seed broadcasting
Grass Planted: Centrosema and White millet
Trees Planted: Antsoan dilau, Mangium , Auri, Red river gum, Narra, White lauan, Mayapis, Tuai, Kawayang killing, Bayog, Rambutan, Lansones and other endemic species
Before

After – Currently at STAGE 2 and STAGE 3 (Buttress Slopes) rehabilitation
Progressive Mine Rehabilitation Program: Malilibeg Dumpsite (MDS)
Date of Rehabilitation: March 2017
Area: 3.57 hectares
Slope Protection: Cocomatting and Riprapping
Grass Planted: Vetiver
Trees Planted: Antsoan dilau, Auri, Mangium, Balitbitan, Red river gum, Rain tree, Mahogany, White lauan, Narra, Tuai, Kupang, Bitaog and other endemic species
Before

After – Currently at STAGE 3 rehabilitation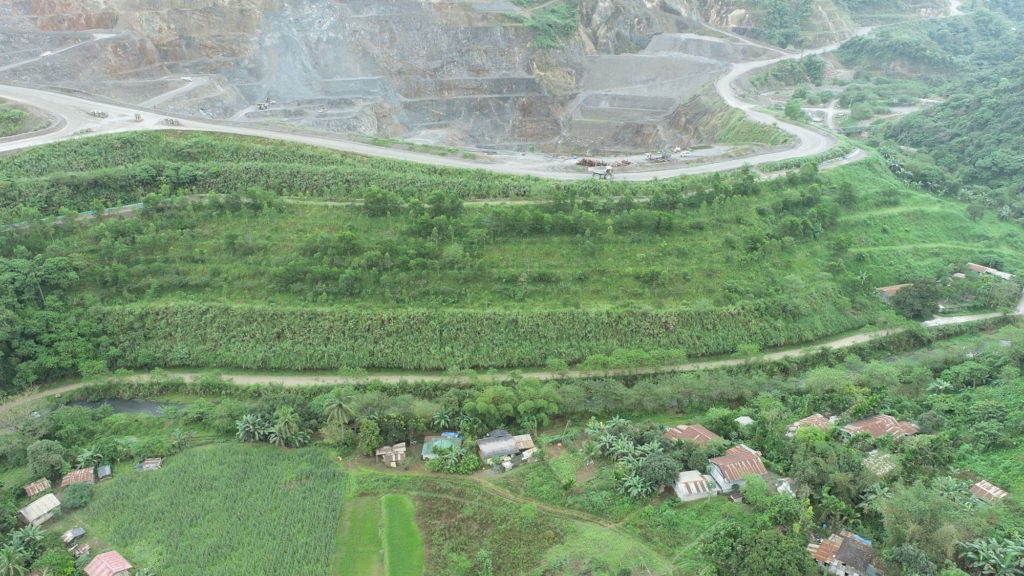 Progressive Mine Rehabilitation Program: Radiohill
Date of Rehabilitation: December 2018
Area: 2.58 hectares
Slope Protection: Dayami Installation, Seed broadcasting, Hydroseeding
Grass Planted: Centrosema, Vetiver, White millet, Fleminga
Trees Planted: Auri, Mangium, Mahogany, Narra, Balitbitan, Antsoan dilau, Red river gum, Tuai, Talisay, White lauan, Mayapis, Rambutan, Durian, Guyabano, Lansones and other endemic species
Before

After – Currently at STAGE 3 rehabilitation